Synthetic oil and synthetic lubricants can help you save money with increased fuel economy and fewer oil changes. Products now support 12 month or 25,000 mile oil changes. Amsoil is the original, and still the best. See the proof by reviewing the comparison tests. Synthetic oil offers greater protection for you engines, transmissions, and gearboxes, and improved performance.

Take action by using the right sidebar to request a FREE Amsoil catalog of information. Request information with absolutely no obligation; two things will happen if you request info. Amsoil will email you an online catalog, and SyntheticOilHQ will mail you (USPS) a catalog, Amsoil stickers, and any other information you requested. Buy from us; we are a 27 year veteran T-1 certified Amsoil Dealer. No obligation, so make sure to request a catalog. If you are outside the US and Canada, email us and we will do our best to ship internationally.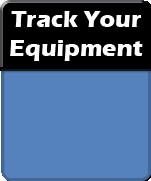 If you've got your Amsoil from us, please submit a rating! We have hundreds of Amsoil customers and would like to hear from you! It only talkes a few minutes to help us out by submitting a quick testimonial and feedback on your experience getting Amsoil from SyntheticOilHQ.com

Amsoil motorcycle products on one page. Air filters, synthetic oils, filters, synthetic engine and transmission fluid, and fuel additives.

Amsoil truck products on one page. Dual Guard and bypass filters, fuel additives.

Explanation of why you should purchase Amsoil online from us, and why some links here lead to the Amsoil.com site. We are a T-1 certified Amsoil Dealer since the 1980's.

Synthetic oil and synthetic lubricants can help you save money with increased fuel economy and fewer oil changes. Synthetic oil offers greater protection for your engines, transmissions, and gearboxes, and improved performance. Take action by using the right sidebar to request a FREE Amsoil catalog of information. Request information with absolutely no obligation; two things will happen if you request info. Amsoil will email you an online catalog, and SyntheticOilHQ will mail you (USPS) a catalog, Amsoil stickers, and any other information you requested. No obligation, so make sure to request a catalog. If you are outside the US and Canada, email us and we will do our best to ship internationally.

For a simple explanation of all of the ways you can build a second income stream by becoming an Amsoil Dealer, read the income opportunities document, or Amsoil income blog post. With a little effort you could build a nice second income.

We ship Amsoil to Canada no problem. We can send you an Amsoil catalog with Canadian prices for. Although we are a Kansas City Amsoil Dealer, we have good snowmobile and snowcross customers who order to Canada regularly. Request a Canada specific (Canadian prices) catalog and order direct. When requesting the catalog, just pick your province in the "state" selection box.

Amsoil gains popularity.
Synthetic oil is becoming more and more popular, with many high performance cars coming from the factory with synthetic oils installed when new. Some cars that are delivered with synthetics include; Acura RDX, Aston Martin, Bentley, Cadillac, Corvette, Mercedes AMG, Mercedes SLR, Mitsubishi Evolution, Solstice GXP, Porsche, Saturn Red Line, Dodge Viper, and more. Educate yourself and you'll learn that Amsoil beat all others in testing. Many manufacturers are also promoting extended drain intervals, something Amsoil has been advocating for decades. Most European manufacturers suggest 9,000 mile drain intervals and are considering doubling it. Big Oil is the main remaining supporter of 3,000 mile oil changes; it helps them sell more. Unnecessary oil changes use 300-400 million gallons annually, and over 1.5 billion dollars annually in U.S. consumer costs. There is also environmental impact; all that old oil has to go somewhere.
The solution? Use a quality synthetic like Amsoil and extended drain intervals of 7,500, 25,000, or 35,000 miles as recommended by Amsoil. This will reduce your oil changes from 4-5 per year to 1-2 per year. Order Amsoil online and have it sent from a local Amsoil warehouse, and can usually be delivered in 2-3 days from the local warehouse. If you're not ready to order, or just need more information, take 60 seconds and request a free Amsoil catalog, or to request information on becoming an Amsoil independent dealer.
Benefits and features
Benefits: Vehicles, motorcycles and various equipments last longer, need fewer repairs and upkeep and emit cleaner exhaust. Less smoking on diesels.
Benefit: Vehicles and equipment perform better (Amsoil = more horsepower) and get better fuel economy.
Benefit: AMSOIL synthetic oil lasts longer than other lubricants do. I've run vehicles for years without oil changes, by just changing filters.
Benefit: Amsoil synthetic oil runs cooler and cooler engines resist stress and wear. I've noticed significant cooler running on my Harley Davidson and other bikes. They last longer, perform better and require fewer repairs.
Benefit; Engines stay clean internally when using Amsoil products, including fuel systems, which helps them perform better, last longer and require fewer repairs.
Benefit; Easier cold temperature starting. Better high and low temperature protection, which helps engines last longer and require fewer repairs.
Benefit Lower wear rate on internal parts from Amsoil synthetic oil, which helps engines last longer and require fewer repairs. Improves fuel economy.
Benefit: Reduced oil consumption from synthetic oil. Better oil flow gives better fuel economy and better wear protection. Lower volatility (doesn't evaporate like petroleum oils do).
Benefit: AMSOIL synthetic motor oils work safely and protect at higher and lower temperatures than petroleum oils do. I grew up in North Dakota and know from experience.
Benefit: AMSOIL synthetic motor oils last longer than conventional oils do, which saves drivers money and reduces the environmental impact of used lubricants.
Synthetic motorcycle oil
We specialize in synthetic motorcycle oil from Amsoil. Request a catalog, use the vehicle lookup, or contact us for the correct Amsoil synthetic motorcycle oil for your bike!
Corporate news, and Amsoil Racing
Tim Tremblay will be one of the hot riders to watch this year. After the turkey has been trimmed and the leftovers put away, thousands of people will descend on Spirit Mountain in Duluth, Minn. Friday for the start of the 2013 AMSOIL Championship Snocross (ACS) series tour. Sanctioned by the International Series of Champions (ISOC), the ACS kicks off its season each year with the AMSOIL Duluth National event, featuring the world?s premier racers looking for a strong start to the season. Team AMSOIL riders Robbie Malinoski, Tim Tremblay and Ross Martin will be aiming for a podium finish, while Martin also seeks a three-peat victory in the AMSOIL Dominator race that he?s swept since its inception two years ago.
With so much talent in one place, the event promises exciting racing action for the whole family. And if some members of the family aren't really into high-flying snowmobile action, the ski slopes are open. There's plenty of snow for both snowboarding and downhill skiing. And when they get to the bottom they can check out the newly built Grand Chalet at the bottom. Whether you're in the area or have to make the trek from elsewhere, it's a great place to spend a weekend. And conditions are perfect this year. Be sure to come out and see for yourself why the AMSOIL Duluth National has become a Thanksgiving tradition for racers and fans alike. For those who can?t make it, look for coverage and updates on the AMSOIL Racing website. What: AMSOIL Duluth National When: November 29-December 1 Where: Spirit Mountain Duluth, Minn. Ticket Information: http://www.visitduluth.com/snocross/ If you're so inclined, yesterday's Duluth News Tribune ran a story on how the AMSOIL Duluth National Snocross came to be.



The final Super Chevy Show of 2013 is a wrap, ending the season with five more show-stopping Chevys vying for the final AMSOIL Super Chevy Best of the Best title. These five vehicles hail from the Rockingham, NC event and complete the final voting roster. It?s left to readers to determine the overall Best of the Best in the Tri-Five, Chevelle, Full-Size, Nova and Camaro categories, earning each final winner bragging rights and $500 in AMSOIL products. After months of bringing out the best Chevys in the nation, selecting the overall winners can?t be an easy task. For those just tuning in, AMSOIL and Super Chevy joined forces to find the best restored Chevys on the road today. Thus was the AMSOIL Super Chevy Best of the Best competition born. Held at Super Chevy shows around the country, editors from Super Chevy Magazine select the best-in-show finalists to go head-to-head in a public vote. From there, readers and spectators are handed the reins to determine the Chevys most worthy of being designated Best of the Best of their breed. At the end of the season each round of finalists competes in one final vote to determine the champions. Stay tuned for the final results that will crown the 2013 AMSOIL Super Chevy Best of the Best class winners, coming soon.
Camaro Butch and Bradley Zadio
Full-Size Ray Bleau
Nova Lee Bell
Tri-Five Frank Brewer
Chevelle Michael and Ann Boyte



Eli Tomac, a young man on the move. This past week Fox Sports and Feld Motorsports announced a five-year agreement that will include nationally televised coverage of Monster Energy AMA Supercross, FIM World Championship, Monster Jam, AMSOIL Arenacross and the Monster Energy Cup events. As soon as the ink was dry all eyes were turned to the new season which kicks of January 2014. For complete details on this story and other news related to AMSOIL racing, be sure to bookmark AMSOILracing.com and sign up for our Checkered Flag eNewsletter. See you in the Winner's Circle.
John Pena's 1966 International 1000A is so cool it's hot! John Pena has been a regular on the show scene for some time, parking his custom vehicle builds at high-profile car shows around the nation and landing magazine coverage both online and in print. He has nine custom builds under his belt, and visions of future projects constantly flowing for his next undertaking.
Most recently Pena attended the Houston Autorama show with his 1966 International 1000A and sent us photos of his masterpiece that speak volumes to his talent. The International 1000A was not an easy project to rebuild, and many dollars and months were spent turning it into the head-turner it is today. After so much time and effort was put into the project, Pena wanted to ensure it was ready for the road and sought out AMSOIL to keep his engine and components running peak. We agreed, and this impressive truck now has AMSOIL installed throughout. Here is a look at his latest photo update from Houston.
Gorgeous from any angle.


John Wargo of The Custom Shop first approached AMSOIL back in 2009 as he was preparing his 1968 Camaro RS and 2007 Cadillac Escalade for SEMA. Wargo wanted the engine to perform on par with the rest of the vision he was creating, and we liked what we saw so we got on board and provided him with AMSOIL products to accommodate his request. Since that time Wargo has returned to SEMA each year with more custom rides and sought out AMSOIL for his lubrication needs. The attention to detail he puts into his builds is impressive, enough to catch the attention of heavy-hitters like Ford Motor Company, General Motors, Nissan and Toyota. Wargo has had the honor of doing SEMA projects for those companies in the past, and is indeed a force to be reckoned with in the pursuit of creating and designing one-of-a-kind show cars like none other. A regular on the car show scene, Wargo has earned Best of Show awards and landed magazine covers and features on numerous occasions. This will be his 15th year in a row at SEMA.
Wargo is currently putting the finishing touches on a 1966 Pro-Touring Chevelle, just one of his latest projects slated for a feature spot at SEMA 2013. We reached out to Wargo to get some insight on what it takes to prepare for a show of this magnitude, and here?s what he had to say. What drew you to this make/model for SEMA? JW: I have always liked the body style of the ?66 and ?67 Chevelle. What is is that has you jazzed about this particular build? JW: The Dual Quad EFI Holley Terminator system on an ATK Performance 408 Stroker LS3 motor did 630HP on the dyno! Why do you think SEMA has become such a destination for vehicle builders like yourself? JW: It?s where all the Big Dogs bring their cars to show them off, and also the magazine coverage you can get there. What is it about this vehicle that makes it ?you?? JW: Firestone air ride suspension, the motor I stated earlier is BAD. It?s going to have a great Sony audio/video system and custom interior as well. What made you choose AMSOIL for your engine? JW: With any high performance motor and transmission you have to keep it protected, and AMSOIL has always been a great product for that. Any favorite AMSOIL product? JW: The motor oils, but we have run AMSOIL in all of our customers' cars for years. My company, The Custom Shop, has been in business for 25 years and has been building some of the best and baddest custom cars in the mid-west. 161 Magazine features, 16 covers, and so many ?Best-of? trophies we can?t even count them all. If you could choose any vehicle in the world to customize and make your own, what would it be? JW: We have built a lot of really cool cars over the years for customers and for ourselves so I really don?t know. You can see our custom builds at www.customshop.org Lastly, what?s your favorite band and song? JW: Guns and Roses Sweet Child o? Mine!
AMSOIL under the hood: AMSOIL 0W-30 Signature Series Synthetic Motor Oil Absolute Efficiency oil filter Multi-Vehicle Signature Series ATF Severe Gear 75W-90 Gear Lube Anti-freeze & Engine Coolant Dominator Coolant Boost DOT-3 Brake Fluid Racing Grease P.i. Performance Improver




RSS Feed
Request a FREE 48 page Amsoil Catalog. NO obligation. Save money with extended drain intervals and increased fuel economy. REQUEST A FREE CATALOG NOW!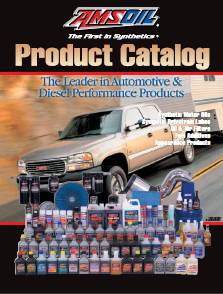 Vehicle lookup; look up your vechicle and find all lubricants, Trico wipers, filters, fluid capacities and more for your specific vechicle. LOOK UP YOUR VEHICLE NOW!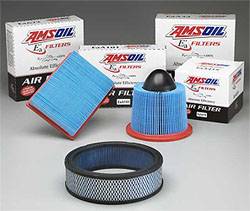 Request information on becoming an Amsoil Dealer. Start your own business, be your own boss and work your own hours. REQUEST INFORMATION ON BECOMING AN AMSOIL DEALER NOW!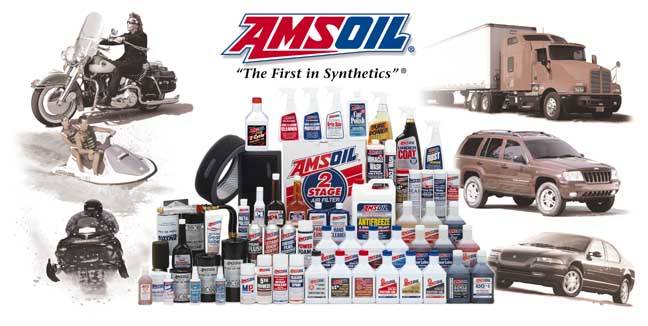 AMSOIL Preferred Customers purchase AMSOIL products at wholesale cost, which is 20-25% less than regular retail prices. Preferred Customers receive an information kit on AMSOIL products and the monthly AMSOIL magazine. Preferred Customer memberships may be renewed indefinitely for only $20/year, or $10.00 for 6 months. BECOME A PREFERRED CUSTOMER NOW!
Contact us with feedback, questions, or requests. We can mail literature, catalogs, or answer questions. Contact SyntheticOilHQ to ask a question.
---

---