<!–ACNTP
On March 9th, 2011 Canadian brothers Colin and Ryan Pyle received a confirmation by the Guinness World Records they had indeed set an International Record for their motorbike journey around China. According to the Guinness World Records the name of the record they received was for the "Longest Journey by Motorcycle in a Single Country". Their journey was a unique one, as they have become the first riders to fully circumnavigate China by bike in one single journey.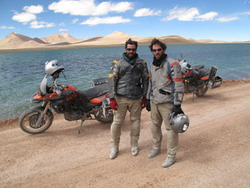 During their outstanding 17,674km odyssey the bros have run across some of the best changes in culture, weather, altitude and terrain that exist in the world. They tackled heavy rains, flooding, landslides, freak storms, intense altitude (above 5000m / 16,000ft), sand, gravel, thousands of kilometers of road construction and even bureaucratic / military interference. Colin and Ryan intend to produce both a documentary film and a written book on their experiences in China, which have been a long way from regular.
Anytime somebody places him or herself out there, into the wild, and opens themselves up to the experiences of such a huge and unique country one can not help but encounter moments of danger, humor, unhappiness, gratification and personal gain and reversal. Their journey will prove to be both colourful and dramatic, both intense and fulfilling. Colin and Ryan Pyle are brothers from Toronto, Canada. But that is about all they have in common. Ryan has spent the decade in China building his career as a Documentary Snapper. Colin stayed closer to home, in Toronto, and built up, and sold, his own successful currency trading company.
Together they intend to showcase much of China's change and development from factory to farm. The general purpose of the trip is to put China on display. To explore the visual and cultural wonders that's China. With a massive population, crowded cities, abundant minorities and its stunning natural landscape ; China offers a traveler an experience like no other. Colin and Ryan have titled their project, "The Middle Dominion Ride", as China's historic name was once The Middle Dominion. Ryan and Colin will be raising money for the SEVA Foundation during their journey. SEVA, is a San Francisco based charity that has, for over 30 years, been serving folk around the globe who are struggling for health, cultural survival and viable communities.
You can follow The Middle Dominion Ride at our Internet site FACEBOOK, YouTube and Twitter news release . The Middle Dominion Ride would haven't occurred without our amazing sponsors : Mandarin House Language School, BMW China, Touratech, The Tomson Group, Airhawk, Pelican Products, Kodak, Oakley, Cardo Systems, and Lowe Pro.
See all Amsoil Motorcycle products on one page.
ACNTPEND–>