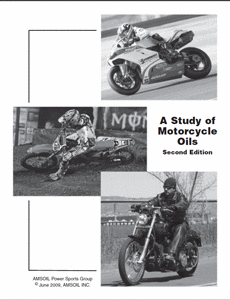 The second edition of the AMSOIL "Study of Motorcycle Oils" (part # G2156) is now available. See how 32 of the top selling motorcycle oils compare in the most critical areas of motorcycle performance. This no-frills study was designed to help consumers make informed decisions when selecting motorcycle oils. There is no hype, no sales pitch, just facts. Never before has so much information on motorcycle oils been delivered in one easy-to-understand source.
See for yourself how the full range of the most popular motorcycle oils stand up to the hot-running, hard-pounding, high RPM conditions of motorcycle applications. This complete battery of tests includes wear protection, rust protection, oxidation stability and more. Click the image above to download the PDF document you can read at your leisure.
FEATURED INTERACTIVE TEST RESULTS
The interactive test results below offer a glimpse inside the testing that is conducted with each oil in the second edition of the "Study of Motorcycle Oils". To see how other oils compared to the AMSOIL products, simply click on their names on the left side of each graph, and their color-coded results will display. We will feature different tests on the page from time to time. If you want to know how all of the oils did on every test, you can download the entire document above.

Volatility (Evaporation) (ASTM D-5800) SAE 50 Results
1. Higher temperatures produce greater volatility (evaporation).
2. Increased volatility causes increased oil consumption and emissions.
3. Oil is first heated to 250° C for a period of 60 minutes.
4. Air is drawn through the container holding the oil sample to remove vapor.
5. After 60 minutes, the remaining oil volume is weighed.
6. Comparison to initial oil weight.
7. A lower weight loss score indicates better performance.
We will also MAIL you a copy of this report if you would prefer. Just let us know.
,