Synthetic Oil HQ - Gear Oil Comparison
Request a FREE no obligation Amsoil catalog while you're here. We'll send on USPS, with an Amsoil sticker.
Thanks to the guys at http://www.mysporttrac.com! If this is where you are reading the comparison, please buy from us! We're 4x4 owners since growing up in North Dakota years ago....
This comprehensive study of gear lubricants will undoubtedly shake up the marketplace. Fourteen of the most popular brands of gear lube were tested at an independent laboratory in areas such as pour point, 4-ball EP weld point, 4-ball EP load-wear index, Falex extreme pressure and many other tests used in meeting API GL-5 performance requirements and SAE J306 viscosity requirements.
The purpose of the Gear Oil White Paper is to inform consumers about the increasingly severe conditions under which differentials operate and to provide data reflecting the quality and cost differences of many popular synthetic and petroleum gear lubes. With this information, consumers are better prepared to make informed decisions when purchasing gear lubricants. All performance testing was conducted by an independent laboratory. Physical-property testing (viscosity, viscosity index, pour point and foaming after oxidation) was conducted in-house. Gear lube pricing was obtained from the manufacturers or distributors.
This no-frills study is designed to help consumers make informed decisions when selecting gear oils. There is no hype and no sales pitch -- just facts. Never before has so much information on gear oils been delivered in one easy to understand source.
Download the PDF version of the Gear Oil White Paper by clicking this link: Printable PDF Version (2 MB) This paper is also for sale as the G2457.
Below is a test showing viscosity before and after a grueling 20 hour shear stability test.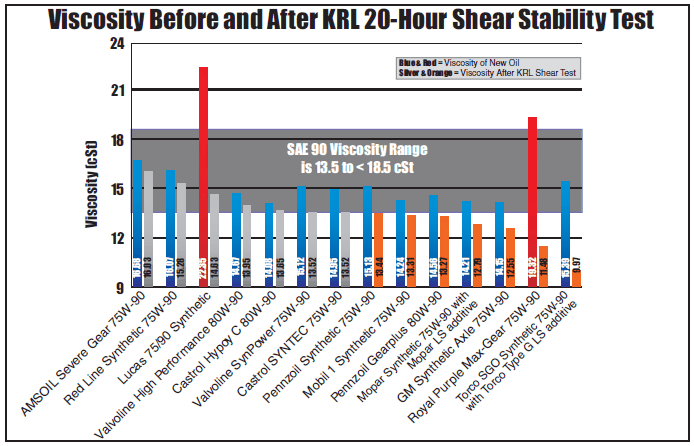 Below are the same results, expressed as a percentage change in viscosity.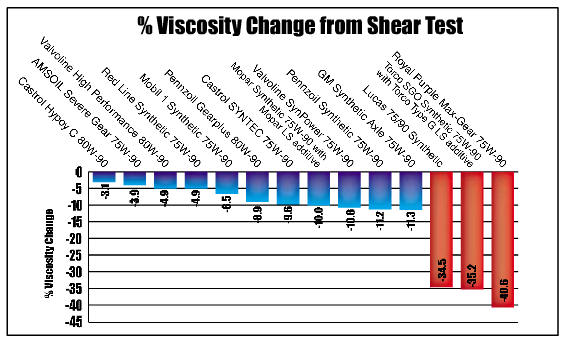 Conclusion

As the testing indicates, AMSOIL Severe Gear ranked highest among all gear lubes tested in this gear oil comparison. It was the only gear lube to score a 4 or better in all performance categories. The high ranking of AMSOIL Severe Gear clearly points to a well-balanced formulation capable of delivering effective, long-lasting lubrication protection to all differential components. Most notable is the superior performance of AMSOIL Severe Gear in the critical areas of extreme-pressure protection and viscosity and oxidation stability. Based on the performance testing, the slightly higher than average price of AMSOIL Severe Gear would be offset by the cost savings achieved through reduced maintenance, longer lasting differentials and extended lubricant life.

Some gear lubes tested well in some areas but scored low marks in others. Torco SGO Synthetic scored highest in viscosity index and cold-temperature Brookfield viscosity but sheared out of grade, failing the SAE J306 requirements for SAE 75W-90 gear lubes. Mopar and Royal Purple scored well in the 4-Ball EP Weld Test, but failed the Copper Corrosion Test and GM, with a good 4-ball EP score, foamed badly after oxidation. This would indicate that too much emphasis in one area of formulation can detract from performance in others. A gear lube is only as good as its weakest link.

A well-balanced gear lube formulation, therefore, is critical for differentials in all types of vehicles, both standard and high performance. With more horsepower, more towing capacity, higher hauling limits and changes in vehicle design, more stress than ever is placed on differential gears. High-quality lubrication is essential, and awareness is now necessary to ensure maximum differential performance and to avoid costly repairs. When purchasing gear lube the decision is left to the consumer, yet based on the facts reported in this document, AMSOIL Severe Gear is the logical choice.
Read and review the complete synthetic gear oil test. This is a pretty big file, so give it a few seconds.
Buy the products
using the "Products" link at the top.
---

Parse error: syntax error, unexpected '<' in /home3/jlackman/public_html/rss-gearoilcomparisontest.php(3) : eval()'d code on line 1