2004 Chevy Suburban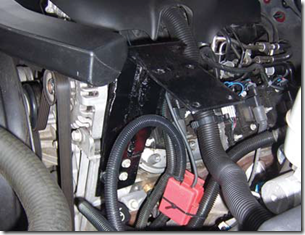 AMSOIL Dual Remote Filtration System
Submitted by Richard Lightfoot
INSTALLING THE BRACKET ALONGSIDE THE
ALTERNATOR PRODUCES VERY LITTLE VIBRATION.
This Dual Remote Filtration System (BMK23) was installed on my
2004 Chevrolet Suburban Z-71. Using 1/4-inch thick steel, we fabricated
and attached a bracket alongside the alternator to hold the bypass
unit. Both the oil supply and return lines measure five feet and
attach to the filter adapter that threads onto the original equipment
manufacturer oil filter mount. We used 45-degree fittings in order to
more easily route the lines forward and up to the by-pass unit. Plastic
conduit also was installed to protect against heat. System capacity
increased from 6.2 quarts to 10.