<!–ACNTP
"75% of motorcycle accidents can be avoided," notes Giuseppe Pino Mileto, inventor of the Motorbike Alert System. According the Traffic Safety Center Hurt Study, 75 percent of motorcycle accidents result when motorists fail to spot motorcycles in traffic. The drivers simply don't see the motorcycle in time to avoid an accident. Many nations have made countless attempts to increase bike safety and awareness. The U.K, Australia and the U.S. – just to talk about a few – have focused their campaigns on motorists taking more time to search for motorcycles.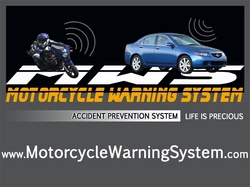 Campaigns like Florida Bike Safety Campaign ; Be Sweet, Look Again Save a Life media release – Think Biker – Take Longer to Look for Bikes (Think UK) – Don't Ride Us Off – You Did Not See Me – Safe Drivers Look For Motorbikes – Share The Road – What Do We Have To Do To Get Spotted, and lots more. Unfortunately the campaigns did not produce the results we were looking for. While less automobile drivers are killed or injured in bike / automobile accidents, the price of such accidents is very high. According to the Hurt Study, less than ten percent of motorcycle riders carry insurance to cover hospital therapy or property damage. Since most motorcycle accidents involve driver error on the part of automobile drivers, the expenses land heavily on those drivers.
To save motorcycle riders and vehicle drivers from major injuries / fatalities, Mileto invented the Bike Caution System (MWS), a device to alert motorists of approaching motorcycles, particularly motorbikes approaching a junction, or being in the motorist's blind spot. Once adopted, this new device could help to eliminate thousands of accidents each year. Mary E. Peters, U.S. Secretary of Transport, on motorbike awareness : NHTSA Safety Video by Mary E. Peters, "Ride Safe, Be Smart" For more information on the MWS go to motorcyclewarningsystem.
ACNTPEND–>