<!–ACNTP
Rockers vs Mods is a three day bike show & music holiday will have more 'Billy than Jimmy Carter's family reunions. Rockabilly legend Mack Stevens will be performing together with The Dangits, Deacon Sean & The Bar Brawlers will round out the Rocker Tunes. For the Mod sensibilities, the Muck Savages, Sleazy Mancini and Johnny Tone's Club Wood will be laying it down thick and wide. The key attraction will be Labretta Suede and the Motel 6 hailing from Auckland, New Zealand.
This dazzling trio will make the trip (from NYC) to get everybody shaking their asses in unison at Lee Harvey's. We were the third mods / rockers sort of event and now there are rather more than 25 across the U.S. The first history on Brighton Beach contrast to a re-emergence of the British version of "Rocker" culture and cafe racer bikes in sharp relief to the mod / Northwards Soul & Scooterboy scene makes for just the right amount of rivalry and friendship. There are presently similar events in : Austin, TX, Baltimore, MD, Boise, ID, Chicago, IL, Cleveland, OH, Columbus, OH, Colorado Springs, Corp, Eugene, OR, Ft. Lauderdale, FL, Houston, TX, LA, CA, New York, NY, San Francisco, CA, San Diego, CA, Seattle, WA & Internationally : Great Britain (of course), Sweden & Japan.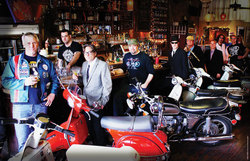 With the renewed interest together with last year's coverage Cafeteria Racer Magazines TV Series, we are expecting a big turnout this year. Rahr & Sons Brewing Co. & Crispin Hard Cider are partnering as a presenting sponsors this year. Additionally, Dime Town Cycles hailing from Largo Florida (& Cafe Racer TELEVISION fame) will sponsor the gig, with Amsterdam Bar, Belmont Hotel & Smoke Restaurant, Dallas Town Mods, TwoWheelTrips Lee Harvey's, Lakewood Insurance, Vespa Dallas, Elm Street Tattoo, Mike, Killing City Roller Derby, North Texas Norton Owners Organisation, Ton Up, Get Bent Scooter Club, ACE Scooter Club & Soldier Clothing.
This year's Rockers vs Mods event is dedicated to the memory of Frankie Campagna and a gift to the Deep Ellum Community Association will be made in his name from a little of the returns. All this is FREE to spectators and $35 to register an EU and Cafe Style Bike or Italian Scooter. Bike Registration and scheduling information is available at rockersvsmods Trademarks and High Res Imagery is available at rockersvsmods free press release .
More info;
www.rockers–vs–mods.com/schedule-2.htm
ACNTPEND–>