Home
»
Posts tagged "engine"
Maximizes Power and Efficiency

AMSOIL Motorcycle Octane Boost (MOB) increases octane for power and efficiency. It is designed to improve startup performance and eliminate engine ping and knock for increased power at low-rpm operation. Motorcycle Octane Boost contains detergents that help combustion chambers and fuel delivery systems maintain cleanliness for optimum performance. At the recommended treat rate, it does not harm catalytic converters or oxygen sensors and is compatible with all other AMSOIL fuel additives.
Maximizes Power & Performance
When treated at 1.3 oz. per gallon of fuel, MOB increases the octane of gasoline up to three numbers. Increased octane improves power and can eliminate performance-robbing and potentially damaging engine knock or ping (see below).
Motorcycle Octane Boost
Improves Low-rpm Performance
Engine knock is especially noticeable in some motorcycles during idle or low-rpm operation and high-temperature driving. Most modern bikes are equipped with sophisticated knock-detection systems that can alter spark timing and the air-to-fuel mixture until knock ceases. Although these systems protect the engine from damage, they can also cause reduced horsepower and poor low-rpm operability. AMSOIL MOB helps reduce the need for knock-detection systems to compensate, ensuring maximum low-rpm power and performance in modern bikes.
Cleans Harmful Deposits
Because Motorcycle Octane Boost contains active detergents, it can help maintain efficiency. For clean up, however, AMSOIL recommends treating gasoline with AMSOIL Quickshot®, which contains a greater concentration of cleaning agents.
What is engine knock and why does it matter?
The tendency of a hydrocarbon fuel, such as gasoline, to knock is measured by its octane number. Lower numbers denote a greater knock tendency; higher numbers denote greater knock control. "Engine knock" is a reference to the sound made from an uncontrolled and early ignition of fuel in the combustion chamber. It causes a knocking or pinging sound, robs the engine of power and can cause catastrophic engine damage. Knock may be eliminated by increasing the fuel's octane.
What is Research Octane Number?
Research Octane Number (RON), Motor Octane Number (MON) and Anti-Knock Index (AKI) are the three most common octane ratings. AKI, the rating with which most North American motorists are familiar, is typically displayed on gas pumps as the average of the fuel's RON and MON [(R+M)/2]. RON, however, is the most common industry rating. Therefore, AMSOIL uses the RON rating when conducting performance tests and product validation. Gasoline's RON generally is a few numbers higher than the AKI posted on the gas pump (e.g. 87 octane fuel, or regular pump gas, has a RON of about 91-92).
 Motorcycle Octane Boost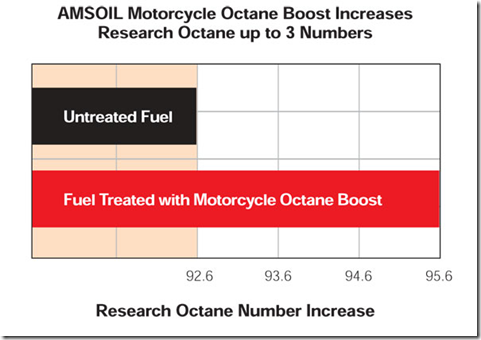 When marketing their products, some additive manufacturers have adopted a points system where 10 points equals one octane number. A claim that an additive increases octane 30 points translates into an increase of three octane numbers. This approach is often used only to artificially strengthen marketing claims and is not endorsed by AMSOIL.
Treat Rate
One 4-oz. bottle of AMSOIL Motorcycle Octane Boost treats four to six gallons of gasoline. Slight overtreatment causes no issues,
APPLICATIONS
Motorcycle Octane Boost is primarily recommended for use in four-stroke air- or liquid-cooled motorcycles manufactured by Harley-Davidson®, Yamaha®, Honda®, Ducati®, BMW®, Triumph® and all other four-stroke motorcycles. It may be used in off-road applications, including ATVs, UTVs and snowmobiles, as an alternative to AMSOIL DOMINATOR® Octane Boost. Note: Clean spills immediately using a clean towel. If left standing, Motorcycle Octane Boost can stain painted or metal surfaces. If cleaned immediately, there is no need for concern.
AMSOIL,Motorcycle,Octane,Boost,efficiency,performance,engine,operation,combustion,chambers,systems
We bought a Scavenger oil change kit from Rogue Chopper. Here is our test, with video.
Amsoil synthetic motorcycle oil.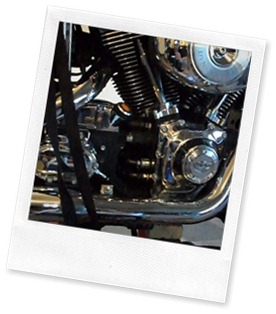 I bought this kit last fall. I put it on with standard hand tools. Later, I bought the crimping tool so I could do installs on other bikes. If you are in the KC area, and want to install one of these, let me know and I'll help out.
We thought this was a very high quality, well designed kit. The customer service was great. I would give this 5 stars out of 5.
Here is an explanation from the Rogue Chopper site;
"We all know changing the oil on our bikes is the most important routine maintenance we perform. So if you are going to change your oil, why not change all of it? We all change our oil by draining and refilling the oil tank and change the oil filter. But we never get the oil out of the engine. We pretend like it's an insignificant amount or it's not even there. Yet there is more than 24oz. left in the engine, 20% of the oiling system capacity! Upon engine start up, this old oil mixes with the fresh oil and starts the breakdown and discoloration of the fresh oil immediately.

Let's face it – the oil filter only gets the particles out of the oil.
We must change the oil because of the chemical breakdown from high temperature and combustion gasses mixing with the oil which is what breaks down and discolors the oil. When you mix 24oz. of old oil with 96oz. of fresh oil, the breakdown of the fresh oil starts immediately. This would be like draining the oil in your car, changing the filter, and then pouring in one quart of the oil you just drained out and the new oil. Then pretend the quart of old oil you just poured in never came out and it's insignificant.
Rogue Chopper has the fix for this problem; The Scavenger Total Oil Change System. This clever yet easy to use system effectively purges all the oil from the engine when performing an oil change. With this we get no old broken down oil mixing with new oil so our new oil stays fresh longer. It's great if you want to switch to Synthetic oil from regular oil or the other way, but either way it's a great product."
WordPress Tags: Rogue,Chopper,Scavenger,Test,tools,maintenance,engine,system,bikes
change air filter on Ford Edge
Well, I wanted to change air filter on Ford Edge, so I shot some video. Here is how to change the air filter on a Ford Edge. The video is at the bottom. Now I can run for 4  years on this filter, and the Edge will be wore out by then. It's supposed to be cleaned once a year. Minimal maintenance.
AMSOIL Ea Air Filters represent a major breakthrough in filtration technology. The revolutionary nanofiber technology used in AMSOIL Ea Filters captures more dirt, holds more dirt and allows better air flow than conventional air filters. AMSOIL Ea Filters improve engine performance and help engines last longer.
Absolute Efficiency
AMSOIL Ea Air Filters rank among the most efficient filters available to the auto/light-truck market. Ea Air Filters' synthetic nanofiber media removes 5 times more dust than traditional cellulose media alone and 50 times more dust than wet gauze filter media. AMSOIL Ea Air Filters have a service life of 100,000 miles or four years, whichever comes first.
Better Air Flow
AMSOIL Ea Air Filters allow more airflow than filters that use cellulose media alone. Cellulose fibers are larger than nanofibers, and have larger spaces between the fibers, causing contaminants to load in the depth of the media and plug the airflow path, which results in higher restriction and less capacity. The synthetic nanofibers in Ea Filter media have submicron diameters and small interfiber spaces, which result in more contaminants being captured on the surface of the media and lower restriction.
change air filter on Ford Edge
More Capacity
AMSOIL Ea Air Filters hold up to 2.5 times more contaminants than cellulose air filters. Since the nanofibers in the media are so small there are more pores per square inch, allowing for higher dirt-holding capacity and lower pressure drop when compared to cellulose filter media alone. Thinner media fibers produce more uniform pore size distribution, improving the filter's overall quality and ability to capture and retain particles. Testing shows that Ea Air Filters hold 15 times more contaminants than a wet gauze-type filter.
Cleanable – Longer Life
When cleaned according to AMSOIL specifications and used in normal service, AMSOIL Ea Air Filters are guaranteed for 100,000 miles or four years, whichever comes first. Ea Air Filters remain effective for 25,000 miles or one year before requiring cleaning. This coincides with the AMSOIL 25,000-mile/one-year motor oil drain interval, adding even more convenience for motorists by consolidating routine maintenance. (See below for cleaning instructions.)
AMSOIL Ea Air Filters hold 15 times more dust than a wet gauze type filter.
AMSOIL Ea Air Filter media removes 5 times more dust than traditional cellulose filters and 50 times more dust than wet gauze.
change air filter on Ford Edge
Applications
AMSOIL Ea Air Filters provide superior air filtration for vehicles in the auto/light truck market.
Cleaning
Ea Air Filters should be cleaned every year or 25,000 miles, whichever comes first. Carefully remove the filter from the housing. Clean the housing with a shop towel, being careful not to knock contaminants into the air inlet. Filters can be cleaned by carefully vacuuming the filter media on the dirty side, or by holding the filter with one hand and carefully blowing the filter media at a 45-degree angle on the clean side using low-pressure shop air (15-20 lbs. psi).
Service Life
AMSOIL Ea Air Filters are guaranteed for four years or 100,000 miles, whichever comes first. The guarantee applies only if the filter has been serviced according to AMSOIL recommendations. In off-road, frequently dusty or other severe-duty applications, clean and change more often as determined by operating conditions or as indicated by restriction gauge.
AMSOIL Warranty
AMSOIL warrants that its filtration products are fit for use according to AMSOIL's recommendations and warrants its products to be free of defective materials, design and workmanship.
WordPress Tags: Change,Filter,Ford,Edge,Video,Here,bottom,AMSOIL,technology,dirt,engine,performance,Absolute,Efficiency,auto,truck,
times,cellulose,life,Better,spaces,depth,path,results,restriction,result,Thinner,size,distribution,Cleanable,Longer,specifications,
interval,convenience,maintenance,Clean,shop,inlet,degree,Service,road,products,fibers,diameters,particles,
vehicles,recommendations,filtration,nanofiber,gauze,miles,four,nanofibers,contaminants
change air filter on Ford Edge
Does Your Differential Feel Neglected? Change to synthetic gear oil
Many truck and SUV owners personalize their vehicles with aftermarket products such as lift kits, tires and rims, custom grills, paint, wheel well flairs and engine upgrades. While these upgrades and accessories can increase engine performance and add plenty of visual appeal, they do nothing for extending drivetrain life like synthetic gear oil can do.  Most people perform proper engine maintenance and change their engine oil on a regular basis, but according to one quick lube business, only about two percent of its customers purchase differential gear lube changes. Even fewer change to synthetic gear oil. Sometimes this out of sight, out of mind differential neglect results in costly gear failure, leaving the motorist stranded on the highway.
There are two basic ways to change differential gear lube to synthetic gear oil. The old fluid may be drained or suctioned out and the differential refilled with new gear lube, or the differential cover may be removed to allow more of the old gear lube to drain out and allow access to the magnet inside the differential. Unlike engines, differentials are not equipped with filters. Instead, magnets that are open to the entire gear lube sump are used to catch some of the metal wear particles. When changing differential fluid, the magnet should be cleaned to ensure the new gear lube does not
become contaminated.
After draining the old fluid and cleaning the magnet, the differential cover should be re-installed and the differential filled with the correct viscosity grade of AMSOIL SEVERE GEAR® Synthetic Gear Lube. The use of cleaning solvents is not recommended. Initial differential oil changes are recommended by some manufacturers after the first 500 to
3,000 miles. synthetic gear oil
synthetic gear oil
Even when vehicle manufacturers do not specify to change the factory-fill gear lube to remove wear particles, it is a
good practice to do so. For optimum gear and bearing life, AMSOIL recommends the factory-fill differential gear lube
be changed no later than the first 5,000 miles with new or rebuilt gears, followed by 50,000 mile drain intervals in
severe service or 100,000 mile drain intervals in normal service when using AMSOIL synthetic gear lubes.
synthetic gear oil
AMSOIL recommends any one of three SEVERE GEAR viscosity grades, 75W-90, 75W-110 or 75W-140, for turbo diesel or 4×4 trucks, SUV's and automobiles.
SEVERE GEAR 75W-90 (SVG) replaces competitive 75W-90 and
80W-90 gear lubricants and delivers the optimum fuel efficiency and cold temperature performance of all the SEVERE GEAR gear lubes.
SEVERE GEAR 75W-110 (SVT) replaces competitive 75W-110, 75W-90 and 80W-90 gear lubricants and delivers increased fluid film wear protection over lighter viscosity fluids and better fuel efficiency than 75W-140 gear lubes.
SEVERE GEAR 75W-140 (SVO) replaces competitive 75W-140, 80W-140 and 85W-140 gear lubes in applications where these viscosities are recommended by equipment manufacturers.
Also don't forget to look at the RACING gear oil options.
Get a FREE no obligationAmsoil catalog and sticker.
Create a second income; become an Amsoil Dealer. It's cheap, quick and easy. No inventory or purchase requirements.
WordPress Tags: Differential,Synthetic,Gear,Free,Amsoil,Catalog,truck,engine,accessories,performance,maintenance,failure,highway,magnet,SEVERE,Lube,vehicle,factory,gears,efficiency,temperature,protection,equipment,vehicles,differentials,particles,manufacturers,intervals,automobiles,lubes,lubricants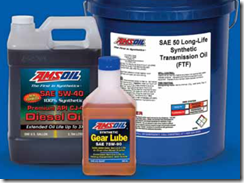 AMSOIL SYNTHETIC LUBRICANTS
INCREASE FUEL ECONOMY
6.54 PERCENT IN DIESEL
TRUCKING APPLICATIONS1
For a copy of this study, ask for it in the catalog request form!
Use this link for all Amsoil heavy trucking products on one page.
Industry-Standard Testing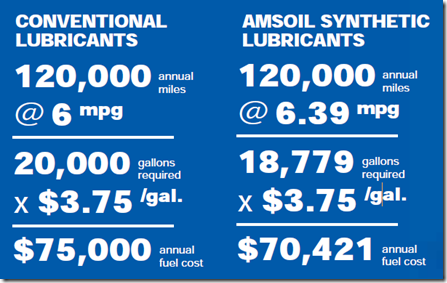 To determine the fuel economy benefits of its synthetic lubricants, Amsoil conducted the industry-standard SAE J1321 In-Service Fuel Economy Test Procedure.
First, the baseline rate of fuel consumption was determined for two nearly identical Kenworth® T800B diesel trucks and 53' trailers from Ford® Motor Company's* Rawsonville, MI fleet. Texaco brand conventional lubricants were installed in each vehicle's engine, transmission, and front and rear differentials. Both trucks simultaneously completed runs on a 40-mile test route representative of real-world driving conditions beginning and ending at Ford's Rawsonville fleet maintenance facility.
Fuel consumption was recorded from each vehicle's engine control module (ECM)
following each run. Although both vehicles were operated using the same conventional
lubricants and according to the same procedures, the test truck consumed an average
of 0.37 more gallons of fuel per run compared to the control truck.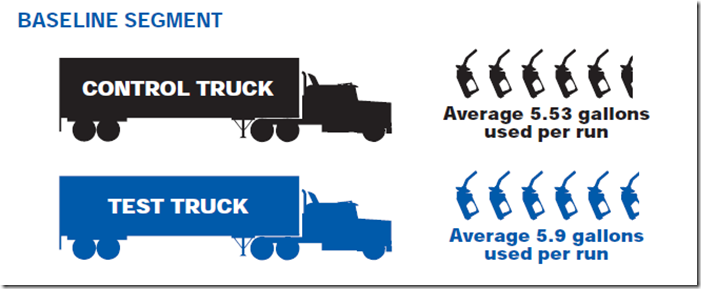 The test truck alone was then thoroughly flushed of its conventional lubricants prior to
installing AMSOIL synthetic lubricants. Both trucks simultaneously completed runs on
the test route according to the same procedures used during the baseline segment. Fuel
consumption data was again recorded from the ECMs. The switch to AMSOIL synthetic
lubricants eliminated the 0.37-gallon difference in fuel consumption per baseline
segment run, resulting in 6.54 percent improved fuel economy.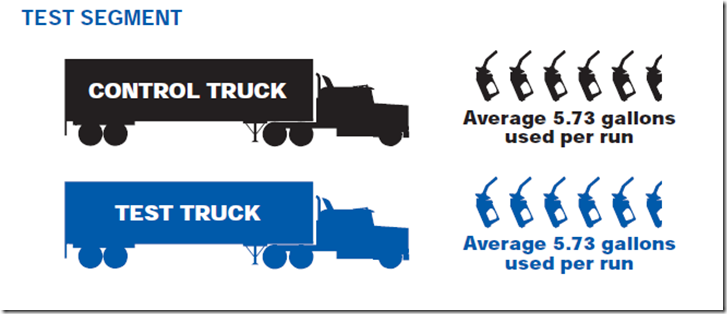 WordPress Tags: AMSOIL,SYNTHETIC,LUBRICANTS,INCREASE,FUEL,ECONOMY,PERCENT,benefits,industry,Service,Test,Procedure,consumption,Kenworth,Ford,Motor,Company,Rawsonville,fleet,Texaco,vehicle,engine,transmission,Both,world,maintenance,module,Although,procedures,truck,trailers,differentials,vehicles,trucks
Engine Fogging Oil
As fall turns to winter, customers in many parts of the country begin placing summer work and recreational equipment; including motorcycles, boats, lawnmowers, construction and farm equipment; into winter storage. Ensure customers' stored equipment is protected throughout the winter season and in top condition when it is put back into service in the spring. Engine fogging oil helps protect your equipment.
AMSOIL Engine Fogging Oil
Fluctuations in ambient temperatures can cause water vapor to form condensate within stored engines. When this condensate comes into direct contact with steel
and iron components, it forms surface corrosion on cylinder liners, piston rings, anti-friction bearings and steel/
iron contact surfaces on rotational seals. Long periods of storage can also dry out cylinders, often resulting in permanent damage when the equipment is taken out
of storage and dry-started. Most two- and four-stroke motor oils are formulated to have an affinity to engine component surfaces, acting as a barrier that keeps condensate from contacting engine components and forming corrosion.
However, the effectiveness of motor oil in this area diminishes with time.
AMSOIL Engine Fogging Oil (FOG)
offers superior film retention, providing long-term
protection against corrosion and dry starts, etending engine life and reducing operating expenses. Amsoil engine fogging oil is an aerosol spray formulation offers easy and clean application, while
reaching more components and offering complete distribution of the oil, something especially beneficial in applications with horizontal cylinder orientation, such as outboard
motors. Consult equipment owner's manual for application directions.
AMSOIL Gasoline Stabilizer
Gasoline is not formulated for long-term storage and can start to degrade in as little as 60 days, leading to varnish and sludge deposits that clog injectors, fuel lines and carburetors; stick oats; and cause poor engine performance, starting problems, increased maintenance expenses and decreased equipment life. It is difficult to drain all of the fuel from equipment before storage, and doing so would expose the to other problems, including the formation
of rust and corrosion on the bare metal in the tank and fuel system and the drying and cracking of gaskets and seals.
Some fuels are pre-treated with oxidation inhibitors that allow them to be stored for short periods without forming excessive deposits, while other fuels have no inhibitors at all. AMSOIL Gasoline Stabilizer (AST) reduces
the oxidation that occurs when fuel is stored for extended periods, improving performance, extending equipment life
and decreasing maintenance expenses.
Technorati Tags: Equipment,Needs,Protection,FREE,Amsoil,Catalog,winter,customers,construction,storage,Ensure,Engine,Fluctuations,vapor,components,corrosion,cylinder,rings,friction,Long,Most,component,barrier,area,retention,life,expenses,aerosol,distribution,orientation,Consult,owner,Gasoline,Stabilizer,sludge,performance,problems,maintenance,expose,formation,tank,system,Some,oxidation,boats,temperatures,liners,periods,cylinders,condensate,inhibitors
Amsoil Snowmobile Oil
Buy online, or get a FREE Amsoil Catalog
See all Amsoil snowmobile oil products here.
INTERCEPTOR™ High Performance Synthetic 2-Cycle Oil (AIT)
A high-performance two-cycle oil with a performance emphasis on exhaust power valves. Excellent for all types of snowmobiles, motorcycles, personal watercraft, ATVs and jet boats. Contains high levels of detergent additives to prevent valve sticking. High quality replacement for manufacturer branded oils. Injector use or 50:1 premix. JASO FC, API TC
Amsoil Snowmobile Oil
Amsoil Snowmobile Oil AMSOIL INTERCEPTOR™ Synthetic 2-Cycle Oil is formulated with a proprietary blend of the finest synthetic base oils and additives available today. This unique AMSOIL Chemistry represents a breakthrough development in the field of two-cycle engine lubrication. The backbone of AMSOIL INTERCEPTOR 2-Cycle Oil is a specially developed molecularly saturated synthetic base oil. This, combined with a robust additive package, ensures exceptional lubricity, cleanliness and optimum clean-burning characteristics. Extensive research and testing, including a full snowmobiling season in severe Rocky Mountain applications, has proven that wear on cylinders, pistons and bearings is significantly reduced. And with up to 30 percent more detergency and dispersancy additives than typical two-cycle oils, Amsoil Snowmobile Oil AMSOIL INTERCEPTOR virtually eliminates hard carbon deposits that cause exhaust power valve sticking, ring sticking and preignition-promoting "hot spots" in the combustion chamber.
Helps prevents hard carbon deposits that cause exhaust power valve sticking and ring sticking.
Superior lubricity controls cylinder, piston and bearing wear.
Reduces smoke and odor associated with two-cycle engines.
Helps prevent plug fouling.
Provides exceptional SAE #4 cold temperature fluidity (-58°F pour point).
Versatile and excellent for all types of recreational equipment.
Protects against rust.
Helps prevent pre-detonation from combustion chamber "hot spots."
Amsoil Snowmobile Oil
PRODUCT DESCRIPTION
AMSOIL INTERCEPTOR Synthetic 2-Cycle Oil is formulated with a proprietary blend of the finest synthetic base oils and additives available today. This unique AMSOIL chemistry represents a breakthrough development in the field of two-cycle engine lubrication.
The backbone of AMSOIL INTERCEPTOR 2-Cycle Oil is a specially developed molecularly saturated synthetic base oil. This, combined with a potent additive package, ensures exceptional lubricity, cleanliness and optimum clean-burning characteristics. Extensive research and testing, including a full snowmobiling season in severe Rocky Mountain applications, has proven that wear on cylinders, pistons and bearings is dramatically reduced. And with up to 30 percent more detergency and dispersancy than typical two-cycle oils, AMSOIL INTERCEPTOR virtually eliminates damaging deposits on piston skirts, ring grooves and exhaust power valves.
APPLICATIONS
AMSOIL INTERCEPTOR Synthetic 2-Cycle Oil is recommended as an injector oil or at a 50:1 mix ratio in carbureted, electronic fuel Injected (EFI) and direct fuel injected (DFI) snowmobiles, personal watercraft, motorcycles, ATVs and jet boats, including, but not limited to, those manufactured by Bombardier®, Yamaha®, Arctic Cat®, Polaris®, Kawasaki®, Suzuki® and Honda®.
It is recommended wherever JASO FC or API TC two-cycle oils are specified. INTERCEPTOR is a premium quality replacement for recreational equipment manufacturers' branded two-cycle oils. It is compatible with most mineral and synthetic two-cycle oils, however, for best performance, mixing oils should be minimized.
400,000 Miles of Severe Snowmobile Field testing With No Deposit Buildup, Power Valve Sticking, Ring Sticking or Engine Failures.
Subjected to adverse field testing conditions in the Rocky Mountains, including long trail rides, high RPM powder riding and steep hill climbs, AMSOIL INTERCEPTOR demonstrated superior wear protection and outstanding deposit control.
.
No carbon deposits are detectable in the functioning region of the exhaust power valves, resulting in "no stick" performance, continuous valve operation and reduced maintenance.
Pistons show no scoring, little or no wear and no heavy deposits, and wrist pins show no discoloration from heat. In fact, the original machine markings on the pistons are still visible.
Cylinder head is clean with no deposits, preventing pre-ignition problems.
http://www.syntheticoilhq.com/blog
WordPress Tags: AMSOIL,INTERCEPTOR,Snowmobile,FREE,Catalog,products,High,Performance,Synthetic,Cycle,emphasis,Excellent,ATVs,valve,replacement,manufacturer,Injector,JASO,Chemistry,development,engine,characteristics,Extensive,Rocky,Mountain,combustion,chamber,Superior,cylinder,odor,temperature,Versatile,equipment,detonation,PRODUCT,DESCRIPTION,ratio,Bombardier,Yamaha,Arctic,Polaris,Kawasaki,Suzuki,Honda,mineral,Miles,Severe,Field,Deposit,Buildup,Power,hill,protection,boats,cylinders,manufacturers,Failures,Mountains,snowmobiles,motorcycles,watercraft,proprietary,lubrication,pistons,detergency,dispersancy,carbon,piston
Synthetic Motorcycle 20W-50
This is a reprint of a testimonial sent to Amsoil Corporate. – editor
Hello,
You'll notice by my signature below that I am an employee of Chevron Global Lubricants. I am a training specialist and field engineer for our North American lubricants division. I originally worked for Amoco at the R&D facility before moving into marketing, and while in that role, Chevron bought our lubricants business right after I moved to Florida.
All in all, I have more than 34 years of experience in fuels and lubricants testing, development and tech service support.
I own three motorcycles that I either drive on the street or race. What I wanted to share with you today is my experience with my drag bike.
It is a Yamaha Roadstar Warrior. Originally built as a power cruiser, but now it is stretched, slammed and built to run on E-85 fuel and nitrous oxide. I have taken this bike from a fun street cruiser to a beast that wants to jump out from under me every time I snap the throttle.
Synthetic Motorcycle 20W-50
The engine is putting out more than three times the horsepower it was originally built with, and with the highly oxygenated fuel, nitrous, and severe use, I have been battling cylinder and piston ring distress for a couple of years. Essentially, whenever I did a teardown, there was evidence of streaking of the Nikasil-lined aluminum cylinder, essentially a scuffing situation that is aggravated by the high cylinder pressures and fuel dilution. Synthetic Motorcycle 20W-50
Since Chevron does not make motorcycle oils, I have had to try many of the "other" different motor oils, all synthetic. To make a long story short, I should have read your white paper on motorcycle oil testing. It would have saved me at least three premature teardowns. Synthetic Motorcycle 20W-50
Synthetic Motorcycle 20W-50
Bottom line — the AMSOIL Synthetic Motorcycle 20W-50 has completely solved my problems. I have been running it for over a year now, and compression and leakdown have stayed at the exact level as when the engine was freshly rebuilt. This weekend, I tore down the top end to try a new piston ring combination, and the cylinders had absolutely NO sign of streaking or other wear-related distress. Synthetic Motorcycle 20W-50
Also, all other clearances, including valve lash and valve guide and bearing have stayed the same. This is truly remarkable.
In my training endeavors, I run into a lot of end users who are high performance junkies just like me. I have no problem sharing my experience with the AMSOIL products.
Thank you so much for the great product.
Best Regards,
Sam Vallas
Training Specialist
Chevron Global Lubricants
WordPress Tags: Testimonial,Amsoil,Synthetic,Motorcycle,engine,times,cylinder,Nikasil,situation,dilution,Chevron,paper,Bottom,problems,compression,combination,Also,valve,cylinders,three,piston
Amsoil Engine Flush
Family Handyman magazine
Family Handyman Magazine had a short tip on the 4 Big Synthetic Oil Myths. www.familyhandyman.com
The big four myths listed were;
You have to flush the engine before you can run synthetic oil in it. FALSE. You should NEVER flush your engine. All carmakers warn against this practice. (editorial comment; this is the one reaction we disagree with)
Synthetic oil causes leaks. FALSE. This was true 25 years ago. Not anymore. Current formulations contain seal conditioners to prevent leaks.
Once you switch to synthetic, you can't go back to regular oil. FALSE. No truth whatsoever to this one.
Since synthetic oil flows better when cold, I can ignore the manufacturer's recommendations for 5W- 20 and use 10W-30. FALSE. Heavier weight oil reduces fuel efficiency and can mess up valve timing mechanisms. Stick with the manufacturer's oil weight recommendations.
Amsoil Engine Flush
In general, Family Handyman gets it straight on these tips. These have each been a long standing myth so it's good to get a major magazine to clear the air. We agree with their reaction to tips 2,3, and 4.
Engine Flush
Amsoil has sold an engine flush product for years. In many cases, it's not needed. However, in certain cases it's a proper product to use to transition a car to synthetic oil. It's been used in thousands of vehicles by thousands of Amsoil customers with no issues.
Amsoil Engine Flush
Amsoil Engine Flush AMSOIL Engine and Transmission Flush (FLSH) helps restore fuel economy, increase operating efficiency and reduce emissions in gasoline and diesel engines, and automatic transmissions. Its potent, detergent-based formula cleans sludge and deposit build-up, promoting lower operating temperatures and reduced oil consumption. AMSOIL Engine and Transmission Flush is safe on parts and can be easily disposed of with waste oil. Amsoil Engine Flush
Restores Vehicles to Like-New
New engines and transmissions run more efficiently, but over time they gather harmful deposits that cause power and performance loss. Stop-and-go driving, prolonged idling, short trips that do not allow the engine to reach full operating temperature, towing, the ingestion of airborne dirt, fuel dilution, water condensation and oxidized oil all can promote sludge build-up in motor oil and transmission fluid. As it settles, sludge clogs narrow oil passages, restricting oil flow to vital parts, especially the upper valve train area. Amsoil Engine Flush
In transmissions, deposits can form on clutch plates, causing hesitation and erratic shifting. Ultimately clutch glazing can set in, reducing the life of the transmission. Deposits in engines and transmissions can accelerate wear, causing power loss and increased fuel consumption. Amsoil Engine Flush
• Cleans engines and transmissions for improved efficiency, fuel economy and lower emissions
• Prolongs equipment life
• Detergent-based formula more environmentally friendly
• Compatible with seals and gaskets
• One-treatment results
• Easily disposed of with waste oil
Installing new oil or transmission fluid into a dirty vehicle may not be enough to remove deposits and increase efficiency. The detergents and dispersants in some lubricants may not be able to handle leftover sludge and deposits, and the new lubricant soon becomes unfit for service, accelerating the formation of even more harmful deposits. Amsoil Engine Flush
AMSOIL Engine and Transmission Flush Benefits
Unlike many flush products, AMSOIL Engine and Transmission Flush features a multi-use formulation that dissolves and disperses sludge, varnish and deposits in both engines and automatic transmissions. Due to its detergent-based formulation, used AMSOIL FLSH can be easily disposed of with waste oil, making it more user-friendly. Its advanced formula of light base oil technology, powerful detergents and dispersants provides safe cleaning action. AMSOIL FLSH is compatible with both petroleum and synthetic oils, preparing poorly maintained equipment for installation of new oil. It represents the first step toward restoring neglected equipment to top-notch performance. AMSOIL Engine and Transmission Flush provides the following benefits in only one treatment:
Gasoline and Diesel Engines
• Helps loosen sticky valves and rings, minimizing blow-by and reducing emissions
• Helps quiet lifter noise
• Promotes lower operating temperatures through sludge removal
• Easy disposal
Automatic Transmissions
• Cleans deposits in oil cooler and ports
• Helps unclog fluid passages
• Cleans deposits and varnish from clutch plates, helping improve efficiency
• Promotes smoother operation and transmission life through reduced shift delay
Applications
AMSOIL Engine and Transmission Flush is recommended for diesel and gasoline engines, and automatic transmissions. It is not recommended for CVT transmissions or differentials.
Directions for Use
Though it works in one treatment, AMSOIL Engine and Transmission Flush is safe enough to be used at every oil change. If using a flushing machine, follow the manufacturer's recommendation. Otherwise, use the following guidelines:
Engine: Add 16 oz. bottle of AMSOIL Engine and Transmission Flush to engine oil fill port. Idle the engine for 10-15 minutes, then immediately drain the oil. Ensure enough time for the system to completely
drain. Remove and replace the engine oil filter. Refill engine with new engine oil in the viscosity grade recommended by the manufacturer.
Transmission: Engage emergency brake. Add 16 oz. bottle of AMSOIL Engine Flush to transmission oil fill port. Idle for 10-15 minutes; shift through drive and reverse. Do NOT place vehicle under heavy load. Drain entire transmission and torque converter of fluid. FILTER MUST BE CHANGED prior to refilling with new transmission fluid.
NOTE: It is not recommended to flush transmissions that do not have a removable pan or access to the transmission filter.
(above) Automatic transmission clutch plates pre-cleanup. Varnish and glazing is heavy on some of the plates.
(above) Automatic transmission clutch plates after cleanup with AMSOIL Engine Flush reveal lighter glazing and varnish.
(above) Cylinder head pre-cleanup. Note the sludge deposits on and around the valve springs and push rod openings.
(above) Cylinder head after cleanup with AMSOIL Engine Flush. The valve springs and push rod openings are noticeably cleaner, with fewer sludge deposits. The manufacturer's stamping is more easily seen.
http://www.syntheticoilhq.com
WordPress Tags: Handyman,Magazine,Synthetic,Myths,engine,FALSE,editorial,reaction,Current,Once,truth,manufacturer,Heavier,efficiency,valve,Stick,tips,myth,Flush,Amsoil,product,cases,transition,customers,Transmission,FLSH,gasoline,formula,sludge,consumption,performance,Stop,temperature,ingestion,dirt,dilution,condensation,area,plates,hesitation,life,equipment,Detergent,Compatible,treatment,results,vehicle,lubricant,formation,Benefits,products,features,user,technology,action,petroleum,installation,Diesel,Engines,rings,lifter,noise,removal,Easy,disposal,Automatic,operation,Directions,Though,machine,recommendation,Otherwise,guidelines,bottle,port,Idle,Ensure,system,Remove,Refill,Engage,emergency,Drain,FILTER,NOTE,cleanup,Varnish,Cylinder,recommendations,mechanisms,vehicles,emissions,transmissions,temperatures,ports,differentials,thousands,detergents,dispersants,formulation